The Proposal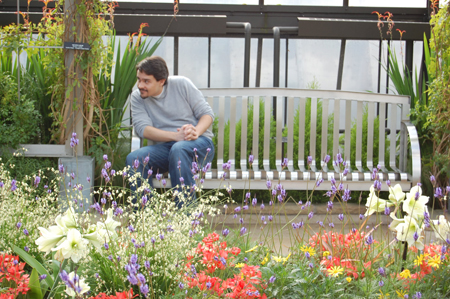 The Plan
Warning! This story contains multiple references to bacon cheeseburgers, HIMYM, Castle, and product placements for both Apple and Five Guys. Unfortunately, we couldn't work in any Flight of the Conchords.
It all started in January 2010. Corey and Kristine had been dating for just under two years, and Corey made a decision that Kristine was the girl he wanted to marry. So, he did the most romantic thing he could thing of…he opened his computer and started an Excel spreadsheet. He needed a plan to save up his pennies to have enough to buy a ring, and apparently spending all of his money on video games and bacon cheeseburgers didn't leave much in his savings. Don't worry, there's more bacon cheeseburgers in this story later on.
Month-by-month, Corey put a chunk of his savings into the bank. In November, Corey was ready for the next step: Asking Kristine's father for permission. He wanted to ask in-person, and the next time they were in Kristine's hometown of Las Vegas was over Thanksgiving. So, on Thanksgiving morning Kristine ran to the store to pick up some last-minute food for the evening. This was Corey's one-and-only shot to ask while Kristine wasn't around.
Asking Permission
Corey very nervously went out to the yard where Mr. Eiman was setting up a turkey to go into the fryer. He started with some small talk about the weather and the local sports teams, but knowing that Kristine would be back soon, he cut to the chase and asked his permission. Mr. Eiman said "welcome to the family" and wanted to know when he planned on proposing. Corey didn't know yet. He figured it would be within the next few months, but knew he wanted to wait until after Christmas 2010.
The Ring
Corey needed to put a plan into motion. One problem: he had no idea what type of ring to get. He did know that he wasn't going to Jared, but that was the extent of it. He knew he needed an ally; someone who could talk with Kristine about weddings and rings without arousing suspicion. Enter their mutual friend Jerricka. Ever since Corey and Kristine had started dating in 2008, Jerricka was vocal about getting them married as quickly as possible. "When are you proposing?" "When are you getting married?" "When are you having babies?"
Corey called up Jerricka in December 2010 and let her in on the news that he was going to propose, but he needed her help. Jerricka was getting married in the spring of 2011 and Corey asked her to take Kristine out to do wedding-related things, and while they were out to please pepper Kristine with her usual line of questioning. Jerricka said that she would take Kristine to a jeweler to find out about Kristine's dream ring.
The day before Corey's birthday, Jerricka went out with Kristine and came back with a simple directive: Call Kristine's mom. So, that's what he did. Luckily, Mr. Eiman had told Mrs. Eiman that Corey asked his permission, and Mrs. Eiman had the good thought to say to her daughter, "One day your boyfriend may ask my help in finding you a ring, so you need to show me what you like." Luckily, Kristine and her mom had just gotten iPhones, so Kristine searched for pictures that she liked, and showed her mom. Mrs. Eiman then requested that Kristine text her a screen shot of the ring so she would have it for future references.
When Corey called, Mrs. Eiman sent him the picture of the template ring and suggested he call Jeff. Jeff White is a local Jeweler in Las Vegas and if anyone was going to know the right ring for Kristine, it would be him. Corey got off the phone with Mrs. Eiman, called up Jeff and spoke to his son Danny. Corey passed the picture and everything he knew onto Danny, and Danny said to give him a few days and he'd have some information for him.
Flash forward to a few days later. Corey went out to Five Guys to pick up dinner for him and Kristine. See? We told you bacon cheeseburgers would come back into this. He was checking his e-mail, waiting for his bacon cheeseburger, when gets an e-mail from Danny with a picture of a ring. Yes, this was it. This was the ring. He called up Danny, made the arrangements.
Planning the Proposal
A few days later a box arrived at Corey's office. It was the ring! Next, he needed to figure out how to propose. This was a question he thought about for a long time, but didn't have an answer. Kristine and Corey had talked openly about their life together after getting married, so Corey knew that a straight up proposal wouldn't shock her, so he needed the element of complete surprise. Maybe a hot air balloon ride? Yes, and share their intimate moment with the hot air balloon operator. Well, that was out. Romantic weekend down in Cape May, and a proposal at sundown at Sunset Beach? Kristine could get suspicious and might expect it.
Corey then found the answer. Kristine talked about wanting to visit Longwood Gardens when they saw a commerical for it on tv. Corey looked it up, and it happened to currently be Orchid Fest, and orchids were Kristine's favorite flower. Orchid Fest is similar to Lobster Fest but with more flowers and less shellfish. Clearly, this was the place he was going to propose.
He needed a cover, and arranged with Jerricka once again to lure Kristine to the place he planned to propose. Jerricka, who was getting closer to her own wedding, asked Kristine to come along to Longwood in order to help her get ideas for which flowers she wanted at her wedding. Kristine agreed. They arranged the date of Thursday, January 27th.
Corey knew he was going to be out of town in North Jersey for work from Monday to Wednesday of that week, but he told Kristine he was going to be gone until Thursday. He also told her that he had a "big presentation" on Thursday and needed to take his suit with him.
On Wednesday night, Corey drove into Philadelphia and stayed with his friend Dan. He wanted to be close to home so that he could easily get into work on Thursday and then get down to Longwood before Kristine got there.
Then, the snow came in. Over twelve inches fell that evening, and as Corey looked out the window wondering if the roads would even be drivable the next day.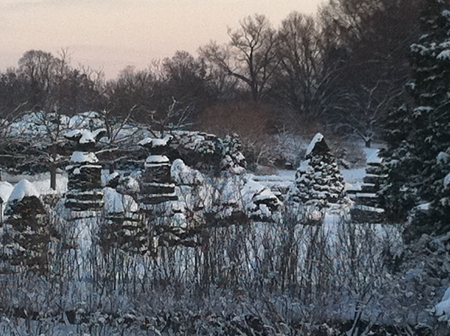 Suit Up!
Corey woke up, but didn't put his suit on. He figured that he didn't want to trudge through the slush in the outfit he was going to propose in, so he packed it up, put on his boots and charged down to his car. The roads were a wreck. The highway was down to one lane, but fortunately most people decided to stay home that day. He made it to the office and discovered that he was the only one there!
He looked at the clock. He had to leave by noon to get down there on time for Kristine's arrival. He decided now was the time. He needed to suit up! He went to get his suit when, oh no. There's a problem. The suit pants were missing! Did he drop them in the snow? Where could they be? He needed a plan.
Men's Warehouse was down the road and he called to make sure they were still open despite the snow. They were! He walked in and spoke with the manager. "I have an important presentation today. I need a suit now and I need to walk out of the store wearing it." The whole scene went something like this:
He had his suit and was on his way.
Meanwhile, Kristine was at home getting ready to help Jerricka find nice floral ideas for her wedding. Because of the snow, Kristine's car was blocked into her parking spot by a snow plow, but she dug it out with a window scraper and headed out on the road to meet Jerricka.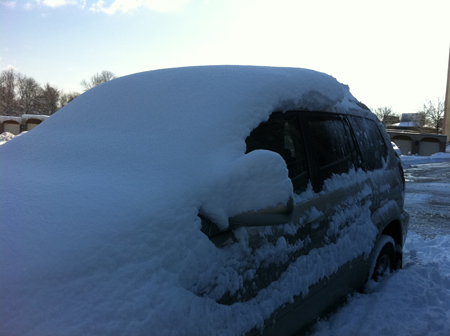 Corey had arrived and been walking around, looking for a good place to hide out and wait for Kristine. He found the Mediterranean Garden and told Jerricka were he was. This would be the perfect spot because there was only one way in and out, and he could wait for Kristine's arrival. Jerricka, who was sitting quietly in her cubical at work and NOT on her way to meet Kristine, called Kristine and said that she was running late thanks to the bad road conditions and to head into Longwood without her.
Kristine heads in and starts walking around snapping photos of flowers in the right shade of purple for Jerricka's wedding. Fifteen minutes later Kristine is still wandering, waiting for Jerricka and gets a phone call from her saying that she is finally at Longwood and will be right in. Kristine offers to meet Jerricka at the front, but Jerricka says "No, no, just stay in there, how about we meet at the Mediterranean Garden?" Kristine offers once again to wait by the front for Jerricka, but finally agrees to head to the meeting spot.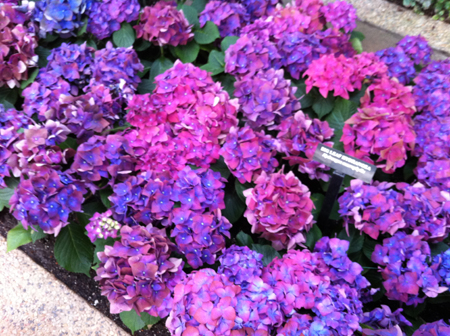 On the way there, Kristine stops just short of the Mediterranean Garden and finds the Orchid Greenhouse. Knowing that Jerricka will pass through on her way to their meeting point, she decides to look around since orchids are her favorite flower and this is Orchid Fest, after all.
After about 15 minutes of looking at the orchids, Jerricka still has not shown up. Corey is sitting in the Mediterranean Garden looking through the window and coming to the realization that Kristine isn't going to walk away from the orchids anytime soon.
Kristine turns to head into the Mediterranean Garden and suddenly sees Corey standing there through the glass paneled door. She immediately panics, because he was supposed to be out of town for work and not returning until that night! She rushes over, asking what he's doing there and if everything is okay. Corey then says he has a question for her and drops down on one knee.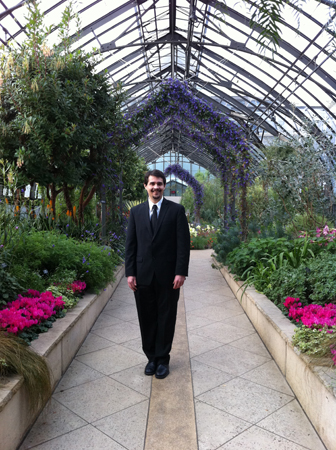 Kristine said "Yes!" immediately, but was still in complete shock and confusion. She asks Corey "Do you have to go back to work? Did you plan this? What about your big presentation?" and finally "Is Jerricka even here?" Needless to say, it took a while for the fact that she had been duped by a bunch of lies to sink in. Afterwards, Corey and Kristine walked the gardens together, with Corey catching Kristine up on the story before they called their families and friends to share the good news.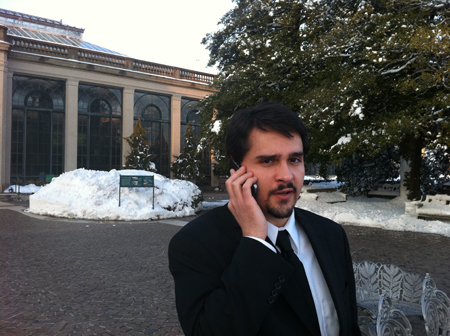 They begin calling their parents and siblings before leaving Longwood Gardens. When Kristine called her sister, Amanda, she was walking by a crowd of Longwood visitors, and delayed her exclamation of "I'm Engaged!" until she got to a more private spot. After several minutes of chit chat, Kristine finally tells Amanda that Corey proposed. Amanda, unable to believe that Kristine didn't tell her as soon as she answered the phone, says that she must be playing a joke on her. In order to convince Amanda, Kristine sent a picture of her hand with the ring on it and Corey in the background.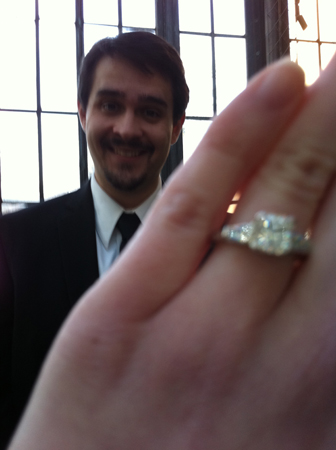 As Longwood Gardens closed, they finally headed out, being congratulated by the many Longwood Gardens employees who had heard about the proposal. Naturally, Kristine suggested a celebratory Five Guys bacon cheeseburger, but Corey knew that she had already made dinner, so celebratory bacon cheeseburgers had to wait for the next day.